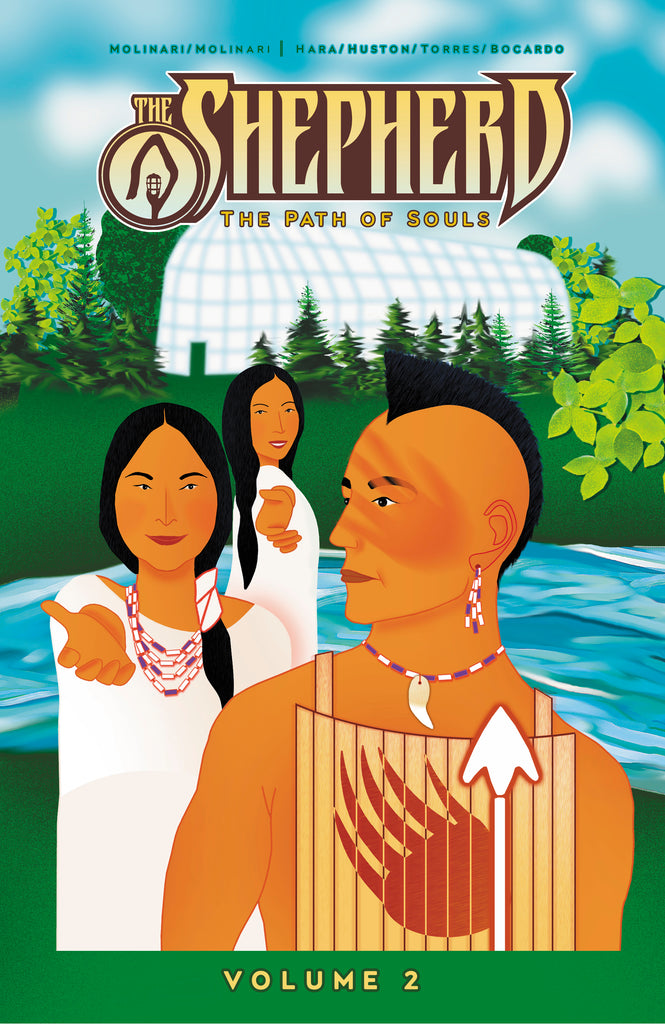 NOTE: This is Volume 2 in The Shepherd series. It features a VARIANT cover by CHRISTINE SIOUI WAWANOLOATH. Christine is both Wendat and Abénaki, and is a well-known and accomplished artist.  (See: https://iosazaso.wixsite.com/sioui-wawanoloath)
The Shepherd: The Path of Souls is the first adventure in the afterlife for The Shepherd and Legio.
In life, Dr. Lawrence Miller, aka, The Shepherd, was a husband, father, and professor. In the wake of a terrible family tragedy, he now wanders the "Seam," that ever-shifting place between this world and whatever comes next, helping other troubled souls, guiding and restoring them. The Shepherd happens upon a very unusual district in the Seam, a "hospital" for souls who have died in combat. Here warriors of all cultures and eras gather. These lost souls are locked in ever-repeating cycles of violence and trauma. They are still fighting the battles that claimed their lives, struggling against the specters of unresolved fears, broken hopes, and shattered dreams.
Domestic processing time
All orders are processed within 2-3 business days. Orders are not shipped or delivered on weekends or holidays.
If we are experiencing a high volume of orders, shipments may be delayed by a few days. Please allow additional days in transit for delivery.
If there will be significant delay in shipment of your order, we will contact you via email or telephone.
Copyright © Andrea Lorenzo Molinari and Roberto Xavier Molinari. All Rights Reserved.